Charles Leadbeater, writer for the Financial Times.
Here's an interesting talk Leadbeater gave on education innovation in the slums of Brazil and East Africa:
I had the privilege of living and working in India for 6 months a few years ago, and was based in Gurgaon, a business satellite town near New Delhi. For those who know Toronto, I often humorously refer to Gurgaon as New Delhi's Mississauga.
When I came across this New York Times video report on Gurgaon, along with the accompanying article, I relived a bit of personal history. That said, it is a fascinating look at how economic growth can be the product of a private sector improvising to overcome the inadequacies of the government.
To quote from the New York Times article:
With its shiny buildings and galloping economy, Gurgaon is often portrayed as a symbol of a rising "new" India, yet it also represents a riddle at the heart of India's rapid growth: how can a new city become an international economic engine without basic public services? How can a huge country flirt with double-digit growth despite widespread corruption, inefficiency and governmental dysfunction?

In Gurgaon and elsewhere in India, the answer is that growth usually occurs despite the government rather than because of it. India and China are often considered to be the world's rising economic powers, yet if China's growth has been led by the state, India's growth is often impeded by the state.
Despite this, however, India is now one of the world's most important new engines of growth. Furthermore, the relevance of the Indian experience is potentially greater to other developing countries:
[…] India's unorthodox path illustrates, on a grand scale, the struggles of many smaller developing countries to deliver growth despite weak, ineffective governments. Many have tried to emulate China's top-down economic model, but most are stuck with the Indian reality. In India, Gurgaon epitomizes that reality, managing to be both a complete mess and an economic powerhouse, a microcosm of Indian dynamism and dysfunction.
Source article:
Booz & Company released last month their annual study of turnover among the chief executives of the world's top 2,500 public companies. While the report focuses on succession and the different roles that CEOs play depending on the model with which the corporate core engages with the rest of the business, Booz also shared some interesting facts on the increasing diversity among these top companies - they are increasing based in emerging economies.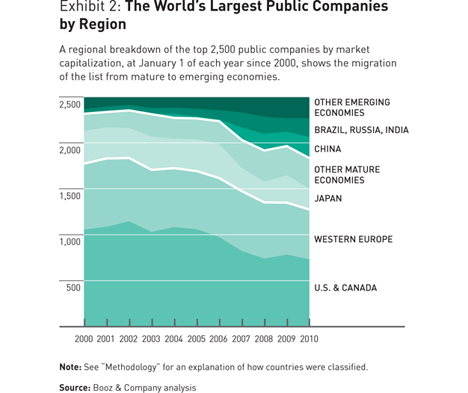 For the first time since the study started in 2000, almost half the companies on the list are located outside North America and western Europe, with the number of companies in these two regions having fallen some 28% since 2000. A significant milestone was in fact reached in 2010:
More than one-quarter of the top 2,500 public companies now have their headquarters in emerging economies. Could this suggest that global enterprise is nearing a geographic tipping point? Within a few years, if this pattern continues, the companies in the world's mature Western economies could represent a minority of our sample. Already, the Asian economies (China, Japan, rest of Asia) are the new center of gravity in terms of global market heft, with 895 companies in this year's sample versus North America's 772 companies and Europe's 619 companies.
This should be unsurprising and even old news to many people, nevertheless it's interesting to note that a major consultancy sees this as an important insight.
Source article:
When one hears about diasporas, it is usually the Jewish, Chinese and Indian diasporas that come to mind.  However, a much smaller community - the Armenian diaspora - has had a disproportionate impact on the rest of Asia. In a column for the Thai newspaper The Nation, Andrew Sheng, author of From Asian to Global Financial Crisis, provides a few fascinating factoids:
Armenians are one of the largest diasporas in the world in relative terms, with 11 million Armenians compared with 3 million in Armenia
There are Armenian Streets in Singapore, Penang, New Delhi, Kolkata, Chennai (formerly Madras) and Dhaka. An odd fact of history is that three Armenian churches have been built on No.2, Armenian Street in Calcutta, Dhaka and Madras
I reproduce a longer extract here:
Armenians in the Far East came via India, mostly as merchants, the most famous being Thomas Cana, arriving in Kerala in 780 AD. The earliest reference to an Armenian in the Far East is the gravestone of Jacob Shameer in Malacca, born in New Julfa, Isfahan, Persia who died on January 3, 1746. In the 17th and 18th centuries, Armenians were already important traders of Indian goods for the Russian and Italian markets. Based from their foothold of Surat in India, they began the China trade, noting in 1783 that they lost lots of money in a ship from China because of the Anglo-French war. In 1797 there is a letter describing Armenians trading from Madras to Penang, but sailing to Malacca, where they were attacked by three French frigates and lost all their possessions. But they lived to trade another day.

There is no doubt that Armenian entrepreneurs played an important mercantile role in British colonial history in the Far East. Singapore was founded by Sir Thomas Raffles in 1819. By 1835, the small Armenian community in Singapore had grown prosperous enough to build the Armenian Church of Saint Gregory, the second Christian church in Singapore. Anyone who travelled in the Far East may have stayed in the chain of hotels that the Armenian Sarkies brothers (Martin, Arshak, Aviet and Tigran) founded in key commercial cities - the Eastern and Oriental in Penang (1885), the Strand in Rangoon (1896), the Raffles in Singapore (1899) and the Majapahit in Surabaya (1910). At one time, the Sarkies family also owned the Adelphi in Singapore.

In addition to the church and Raffles, the Armenian contribution to Singapore included the founding of the Straits Times by Catchick Moses in 1845 and the orchid Vanda Miss Joaquim, named after Agnes Joaquim, which is today the national flower of Singapore.
Sheng tries to make a broader point from this account of a remarkable community:
Globalisation is not about quantity, but the quality of interconnection. Small communities of traders made possible the trading of goods and services around the world, even in the days when communication was difficult. Indeed, their foresight and ability to see opportunities and to create partnerships in new fields is their hallmark of success. These communities thrived on knowledge, research and innovation.

The footprints of Armenian traders and investors, past and present, suggest that talented people from small countries have a lot to offer the rest of the world. It is no wonder that cities that welcomed and allowed these communities to flourish became themselves the centres of trade and commerce in Asia, especially Hong Kong and Singapore.
Source article:
子贡问曰
有一言而可终身行之者乎
子曰其恕乎
己所不欲勿施于人
(论语卫灵公篇)
Zi Gong asked: "Is there a word with which we should act in accordance throughout our lifetime?"
Confucius replied: "It is 'forgiveness'. Do not do unto others what you do not want others to do unto you."
(Analects of Confucius Chapter 15)